Just as pen and paper go hand-in-hand, water is essential in coffee brewing. Water is pointless without coffee. Writing on thick parchment paper shows the beauty of a nicely inked pen. Thus, only high-quality water brings out the best in coffee.
Reasons why you should brew your coffee with high-quality water include;
Water Hardness
A cup of coffee has about
98% of water
. Therefore, water quality plays a significant role in the taste of your coffee.
Water can either be hard or soft. Hard water contains minerals such as magnesium, while soft water is distilled and purer than hard water. In the United States, hard water and soft water varies across all locations. Considering how pure soft water is, it is safe to assume that it is the best type of water in brewing coffee. However, an MIT chemist has a contrary opinion.
It is common knowledge that hard water contains minerals like magnesium, calcium, and bicarbonate ions.
These minerals
can stick to specific compounds in your coffee when brewing. This stickiness, therefore, influences the coffee's taste. Taking magnesium as an example, when you brew your coffee with magnesium-rich water, it can strengthen its flavor and caffeine content. Nevertheless, it is important to note that hard water contains bicarbonate ions which can increase the bitter taste of your coffee.
The Risk of Using Hard Water
When you brew your coffee with hard water, keep in mind that you are taking a risk. Although hard water can diminish the quality of your coffee beans, the complexity it adds to your coffee can be pretty satisfying.
Soft water, on the other hand, contains non-sticky sodium compounds. Using soft water cannot influence the flavor of your cup of coffee. Therefore, we can conclude that you can only get a strong cup of coffee when you brew with hard water.
Should You Consider Water pH
Water can be acidic or alkaline. The pH of neutral water is 7. Bicarbonates in water can regulate its acidity. In addition, alkaline water produces a stronger flavor when brewing a cup of coffee.
Although alkalinity is good, there should be a balance. High alkalinity can ruin the lovely acidity of your cup of coffee. Likewise, low water alkalinity can make the flavor sour. When brewing a cup of coffee, note that.
Although acidic water can improve coffee flavor, it isn't ideal for extracting coffee. Also, acidic water increases the rate of corrosion
Tap water is suitable for extracting coffee, but it results in a terrible flavor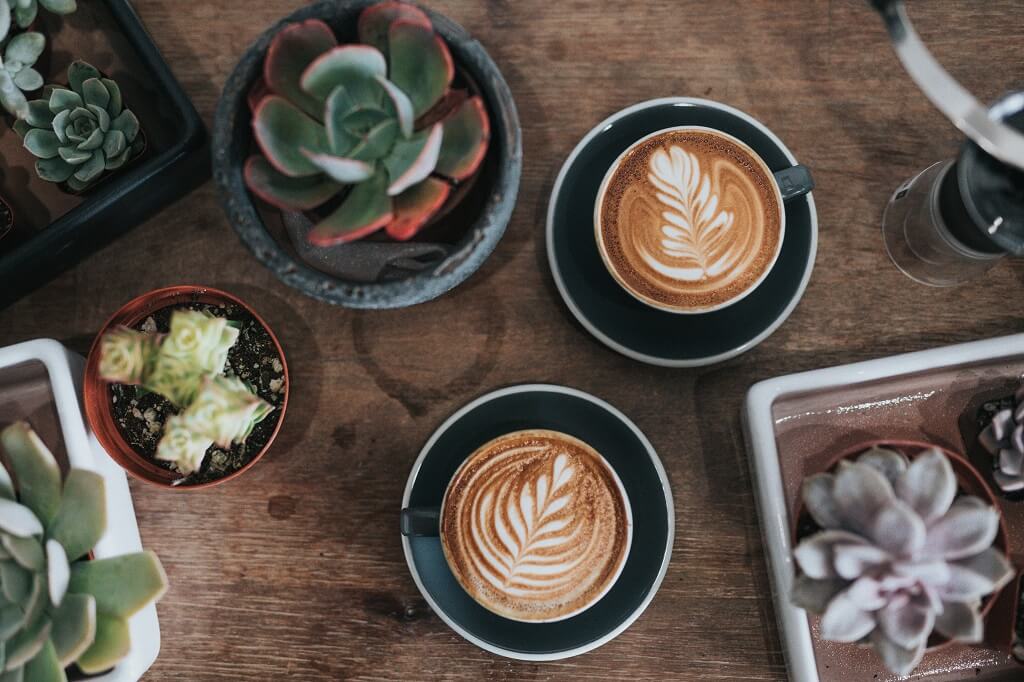 What Are the High-Quality Water Standards
Across the world, tap water is generally hard water. City centers especially have a supply of hard water. Places like New York and London have the hardest type of water due to the distribution network.
To get a strong cup of coffee with a great taste, the water for brewing should satisfy the
Specialty Coffee Association
(SCA) standards, which are;
Total hardness of 50-175 ppm CaCO3 (2,9-9,8 dH°).
Carbonate hardness of 40-75 ppm CaCO3 (2,2-4,2 dH°).
A pH of 6-8.
Understanding the local water composition and creating an appropriate technique is essential for brewing the best cup of coffee. Consequently, this skill requires a specialist
Water Filtration Systems for Improved Coffee Taste
Waterdrop Chubby Water Filter Pitcher
The Waterdrop Chubby water filter jug has a cartridge lifespan of about 200 gallons of water. The jug is not only budget-friendly; it is an efficient water filtration system. The material used in constructing the Waterdrop water pitcher is high-grade lead and BPA-free plastic. A beautiful wood handle also enhances the pitcher.
The Waterdrop Chubby water filter jug uses natural activated carbon and Japanese sourced
activated carbon fiber
(ACF) for filtration. The pitcher effectively removes many contaminants, including fluoride, arsenic, and lead. Furthermore, the water filter pitcher has NSF 42 and 372 certifications which proves that the water pitcher meets the required industry standards for filtration.
Brita Stream UltraSlim Water Filter Dispenser
The pollutants present in the municipal water supply can affect your coffee negatively. Fortunately, the Brita filter is an efficient water filtration system that removes chlorine and other pollutants present in the municipal water supply.
Although the water filter has a slim design, its capacity is quite high. In a rectangular dispenser of 4.4 inches width, the filter can hold 25 cups of water. In addition, the 10.25 inches height and 16 inches depth of the water filter allows it to fit snugly in most fridges, including smaller models.
You can mix a packet of Third Wave Water minerals in a jug of distilled water to instantly get water that meets the exact specifications of the Specialty Coffee Association (SCA). This method is the easiest way of getting the optimal water that improves your coffee's strength and flavor
Third Wave Water Optimizing Coffee Brewing Water
The Third Wave Water formula is different from water purification or cleaning. This process involves making the water for coffee. Although it sounds complex, it is way easier.
The Third Wave Water formula contains an optimal level of magnesium, calcium, and sodium. Magnesium aids extraction and also brings out the sweetness of your coffee. Calcium and sodium are ideal for achieving a balanced body and a magnified flavor, respectively. Regardless of the water filtration system in use, a packet of Third Wave Water is a scientifically optimal and accurate way of producing high-quality water for your perfect cup of coffee.
To Wrap Things Up
The strength and flavor of your coffee depend on the water quality. The perfect water for brewing coffee should contain optimal levels of calcium, sodium, and magnesium ions. Third Wave Water is a perfect solution. It contains accurate levels of minerals needed to brew a strong, flavored cup of coffee